Want to enjoy a meal or a quick bite to eat in Peille? Through its various places to eat, you will have the opportunity to discover and taste local and original dishes.
Where to eat in Peille :
– Restaurant Cauvin "Chez nana" : in the main square of the village, the restaurant offers traditional dishes whose reputation is well established and which will delight your taste buds.
– Pizzeria "Chez Mimi" : cooked over a wood fire, the pizzas can be enjoyed on site, in the small restaurant room, former communal oven and on the shaded terrace at the entrance to the village or to take away.
– Crêperie / Snack "La Voûte" : at any time of the day, come and taste the famous pancake-pizza or simply refresh yourself with a drink in the dining room or in summer on the terrace located in the village.
– "Le p'tit gourmet" caterer : do you want home-made dishes? the caterer of Peille, located on Place Carnot, offers a variety of dishes to discover on site or to take away.
– Bakery – grocery store : in the heart of the village on Place Carnot, a bakery where bread and pastries are baked on site. A small grocery store completes the services.
– The "Le p'tit commerce" grocery store (Temporarily closed) : in La Grave de Peille, this small grocery store will delight you with its take-away or eat-in-place sale of basic products, bread or lunch dishes.
Restaurant - Chez Nana
Traditional Nice cuisine, highly appreciated by illustrious diners, such as Léo Ferré.
Booking : 04 93 79 90 41
Open on weekends only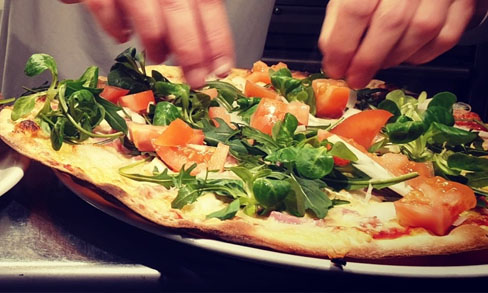 Pizzeria - Chez Mimi
Wood-fired pizza and homecooked meals, to enjoy on site, takeaway, or delivery.
Booking : 07 70 26 83 72
Open from Friday to Sunday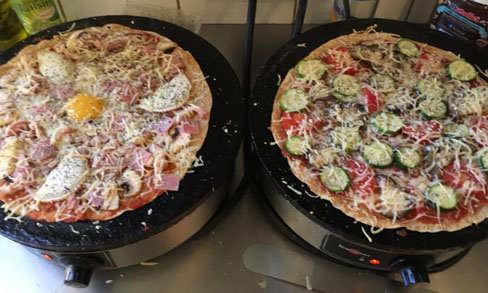 Crêperie / Snack - La Voûte
Traditional crepes, pizzas, and snacks served all day long. Bar open during the day.
Booking : 04 93 04 56 85
Closed on Wednesdays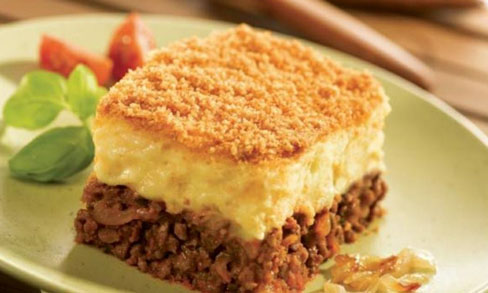 Caterer - Le p'tit gourmet
Bakery / Grocery store
A bakery where bread is baked on site and offering a small grocery store
Open Monday to Friday from 7:30 a.m. to 1 p.m., Saturday and Sunday from 7:30 a.m. to 12 p.m. – Closed on Wednesday